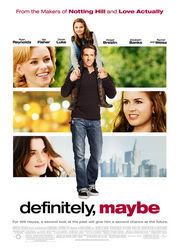 Synopsis: A father going through a divorce explains how he met his daughter's mother and the circumstances that led for him to choose marrying her.
I give this movie




. I thought this movie was very cute. Ryan Renolds's character, the father, is a great depiction of a father that truly loves his daughter and is honest about his her situation in a nurturing, loving way. He turns the story of how he met and chose to be with her mother into a game where the daughter has to chose which one of the three women in the story is her mother. In the process, the man learns a little more about himself and his mistakes. It has a lot of nice little plot twists that lead to a less expected out come.
I definitely recommend this movie to anyone has children (while not recommending it for young children) and anyone who loves love stories with a journey.